Howdy Cowgirl!
What an awesome couple of weeks. We have just wrapped up two events with the Wild Spark Ladies (Danielle Doyle, aka Miss Chardy and Edwina Pilch, aka Miss Bubbles). Brookfield kicked off the first event on Saturday 12th of October. We had been to the Brookfield Hall the day before and the girls had everything set up already. After a quick check on the IT equipment, we headed home to pack up.
For our pop-up, I decided to set up a square terminal and scanner to make the checkout process as easy as possible.  With new bar codes printed and bags selected we packed up ready for an early start.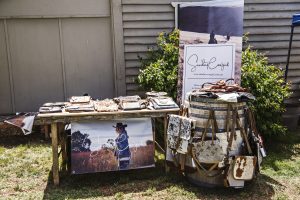 Saturday morning after picking up Stedman we set up in the hall and was ready for a great day hanging with similar minded ladies (ohh and having a few wines). The store was amazing and we quickly saw a number of items sell out. The cowhide chair sold very quickly and we had great interest in our newly designed wallets.  
The lovely Shelly Hawkins from Trek West and Joy McClymont from Off the Track Training did an awesome job at keeping the ladies entertained as the guest speakers for the day.
The following week had been back in my "day job" with a trip to Melbourne on Monday. On Friday I flew into Mudgee (via a night in Sydney) ready to dance the two-step. My presentation for Saturday was done and now it was just time to rehearse it with Kiri & Nathans dog a few times. What a great boy Jett is, he looked thrilled with how IT can help you in your daily business.
A quick visit to Burnbrea Wines on Friday afternoon saw a repeat of the previous week. Ed and Dan where on fire and had everything set up! Saturday morning after a brief but very positive meeting with the great guys from Mudgee Sound and PA Hire all the IT equipment was set up in record time.
Talk about nerves!  I've spoken to large groups of people in my "corporate life" many times but to stand in front of these wonderful ladies and talk about myself … yikes!!! But once behind the microphone the words and slides flowed and 40min seemed to be more like 5min. I covered a bit in that time but the general points were:
1.  The Cloud and how I use this in my business 
2.  How I keep all my devices connected 
3.  Tips and tricks for iPhone users 
4.  Emergency Contacts 
With a high-five with Shelly, she was next up and did an amazing job talking about TrekWest and hikes she offers are her amazing property. Without some amazing ladies that support me, none of this would be possible.  Thanks to Dan & Ed for trusting in my IT skills. Stedman and Kiri you are the best popup sales ladies, thanks for giving up your time. The builders' wife, you deserve a very special mention as well. You are truly a lovely human being, thanks so much for your support.
Safe travels,
AJ