Wild Spark is a rural women's networking event. The events are all about forming new connections & learning, listening to inspirational speakers, promoting new exciting products & enjoying a glass or three of wine whilst laughing uncontrollably with good friends.

Sunday Cowgirl sat down with co-founder Edwina Pilch to discuss our collaboration and how we help each other's brands grow.
---
Q: So Edwina, how did we meet?
A: We met at a Chris Grant horse clinic many years ago!! Outside Murgon on a vineyard (that's trouble in itself), so a lot of fun was had that weekend with horses, women and wines in hand. Dangerous! Poor Chris that he had to put up with us ladies that weekend! I also remember how you had a slow cooker on and I thought wow that's fancy!
Q: How do we work together on Sunday Cowgirl?
A: I love the Sunday Cowgirl product, I also love the lady who put Sunday Cowgirl together – you!
The brand works perfectly with Wild Spark, a business Danielle Doyle from Mittibah Station, NT and I run together. Wild Spark is all about connecting rural, regional and remote women. Helping them be the best they can be, no matter where they live. A perfect match really.
Q: What attracted you to Sunday Cowgirl?
A: From the very beginning, Wild Spark events and Sunday Cowgirl pop up shops have always been on tour together, just one of the gang really. From the launch at Mt Isa 2019, then onto Brookfield Ladies Lunch 2019, Then a road trip to Mudgee ladies lunch 2019, plus all the gorgeous lucky door prizes at Mt Isa 2020. Wild Spark and Sunday Cowgirl are just meant to be together because every lady loves wine, lunch & a chat with friends and of course a new Sunday Cowgirl bag.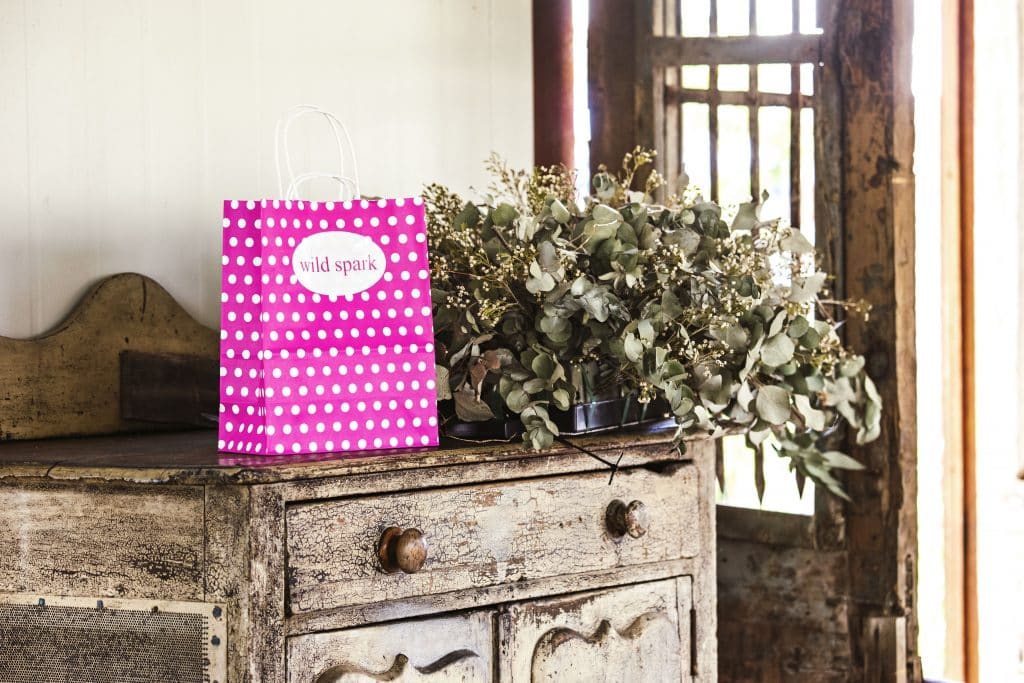 "Wild Spark is all about connecting rural, regional and remote women. Helping them be the best they can be, no matter where they live."

Edwina Pilch
Q: Tell us about you, what business do you run and how long have you been doing it for?
A: When I finished senior school I completed a beauty therapy course and had several businesses at a young age. Peaches and Cream and then Country Beauty. I really loved the challenge of my own business and it's where I found my love of working with people. Even though I had completed Beauty Therapy I missed out on my dream of being a Nurse. When I turned 40, I did something crazy – applied to university to study Nursing, I didn't want to have any regrets so I had to follow my heart.

Maybe it was a midlife crisis. But it was great, I had to learn to write and study and had to promise my kids I would finish before they started university (they didn't want to bump into Mum there!). I finished my degree and now work in a lovely day hospital with a great team and get to serve the families in my community.

But I was still missing running my own business so along came Danielle Doyle and Wild Spark. We fired up the engines in November 2018, Dan and I launched our first ladies conference in Mt Isa 2019 with five guest speakers and over a hundred powerful women in attendance. It was a fantastic day and we have grown from strength to strength with more events since then.
Q: Can you give our readers some advice on starting a business or collaborating with others?
A: Be brave and follow your heart. Find a mentor in the field you are choosing to start your business and ask heaps of questions. But most of all enjoy the learning curve and the ride, remember it is better to have tried than not at all.

If I can inspire one woman to follow her dreams and create a future for herself, I'm happy. I'm always here to help and inspire anyone that needs it.
---
Edwina sports a number of our Sunday Cowgirl products at the moment, we really appreciate the support!

Reach Edwina by following Wild Spark on social media via the links below