Western fashion trends have changed consistently from season to season around the world with reasons on why you should buy a cowhide leather bag growing – and fast. From Calvin Klein sporting rodeo skirts on the runway to Gucci's cowhide slip on sneakers, the cowhide trend is moving away from its traditional rural roots to a more sophisticated customer. Victoria Beckham, even incorporated a cowhide-on-cowhide look into her own 2019 summer line.
Outside of the appeal that is growing for cowhide in the brand & influencer fashion world there are a host of other reasons why this versatile fabric is worth your consideration. Take these five reasons why you should consider a cowhide bag to compliment your wardrobe.
They are built tough
Take a Cowhide Rug as the best example, they cop a lot of wear and tear from foot traffic inside people's homes and they last a very long time. Sometimes even passed on through generations. Translate this to a bag, that won't suffer any wear near that kind of treatment and you have a very durable piece of fashion that will last you a long time providing you know how take good care of it. This is a big reason why cowhide overnighters & cowhide weekenders are an extremely good choice to compliment your travel collection.
No two are the same
Individuality is what makes owning a cowhide leather bag one of the standout features. Because they are derived from cow skins, each hide has their own unique characteristic. You can find hides with gorgeous soft chestnut browns or spotted black & whites to accentuate any look. The fun is in finding the right piece for the right adventure. Whether it be for work or play, you will find cowhide shoulder bags, totes, crossbody or clutches fit for all occasions.
Before you buy a cowhide leather bag online, be sure to ask the seller for images of the hides, so you know exactly what to expect and the opportunity to choose your favourite. We here at Sunday Cowgirl offer this. Simply contact us with the name of the product and we will share images with you to help you with your decision.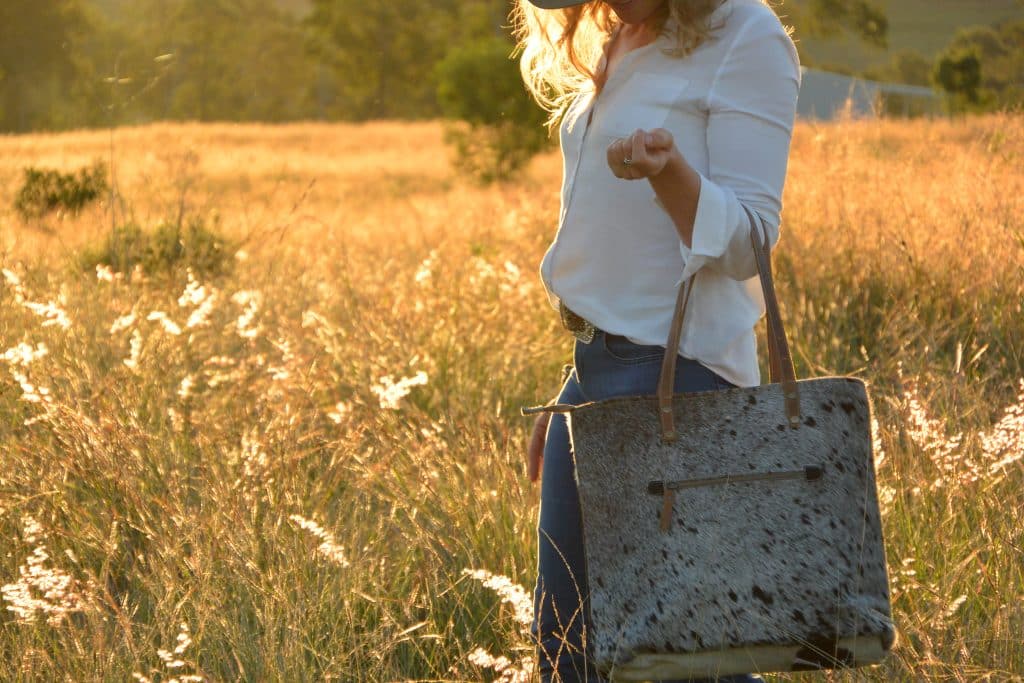 You can find hides with gorgeous soft chestnut browns or spotted black & whites to accentuate any look. The fun is in finding the right piece for the right adventure.
You get what you pay for
While some cowhide bags can be expensive, high quality fashion products can truly last a lifetime. A great way to know if your investment is worth it is to inspect the hardware of the bag. Take our Chessie Overnight bag as an example. High quality hardware features such as buckles, zippers and straps (coupled with the strength and quality of the cowhide leather) will ensure your higher investment is a good one.
Be sure to inspect and talk with your supplier or wholesaler to ensure the quality of the bags before you buy a cowhide leather bag. The proof is in the little details and generally the hardware is a great place to start.
It plays a part in sustainability
With a shift in consumer trends towards higher environmental practices and sustainable design most people are surprised to learn that all cowhide products are a by-product of the meat industry. Another interesting environmental note is that not removing the hide from the leather causes far less pollution than the process to extract it to create the smooth leather finish which is a much more popular consumer choice particularly on larger items such as leather chairs or couches.
It won't give you allergies!
Did you know cowhide is hypoallergenic? That's right, if you suffer from allergies you can save those Kleenex for fabrics that don't offer this largely unknown fashion benefit. Even things like dirt, dust and liquids are easily repelled due to the natural oils present within the hide.
---
Ready to buy a cowhide leather bag or some accessories to add to your collection?